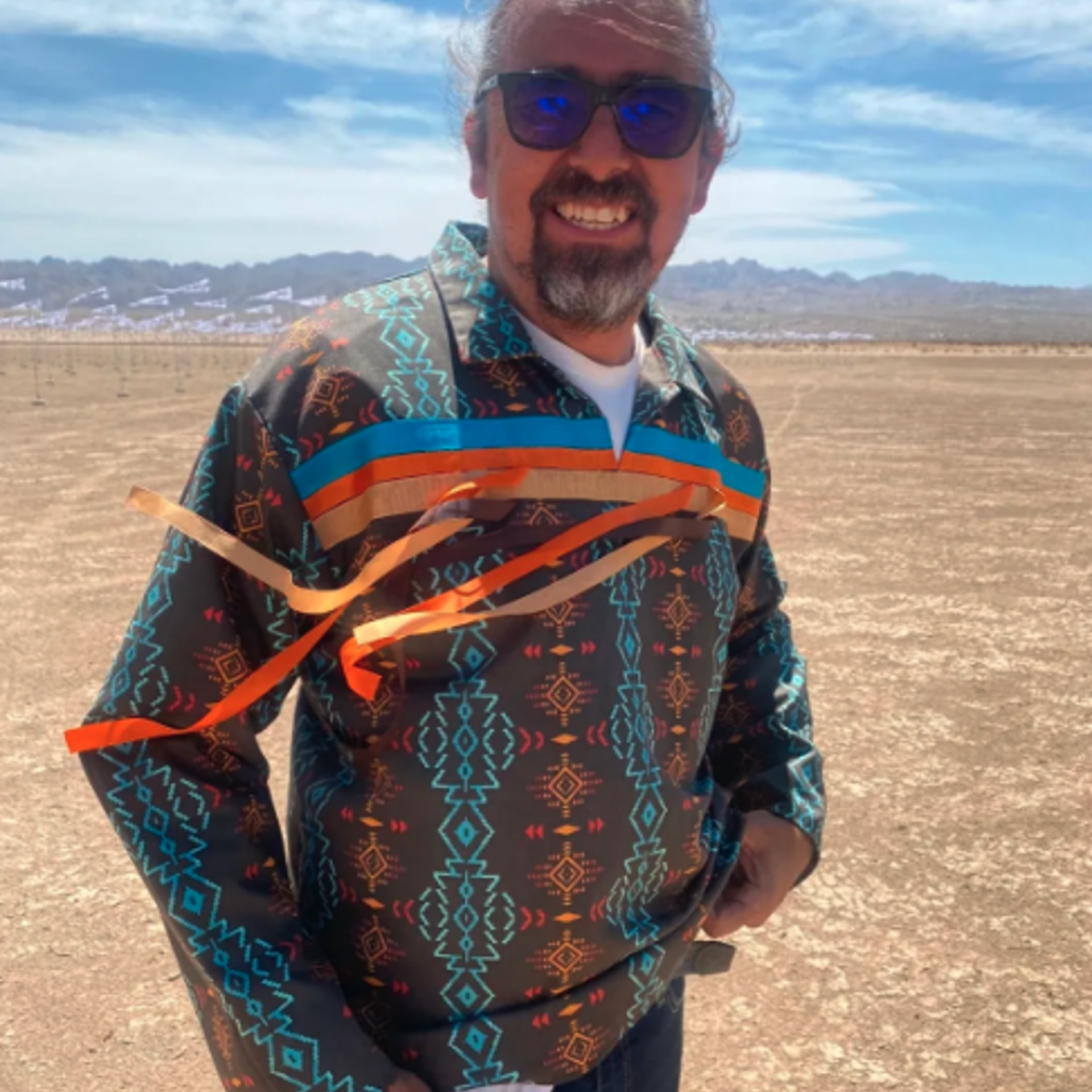 Biography
Gerald Clarke is a visual artist, educator, tribal leader, and cultural practitioner whose family has lived in the Anza Valley for time immemorial. As an enrolled citizen of the Cahuilla Band of Indians, Gerald lives in the home his grandfather build (c.1940) on the Cahuilla Indian Reservation and currently oversees the Clarke family cattle ranch. He is currently a Professor of Ethnic Studies at the University of California Riverside where he teaches classes in Native American art, history, and culture.
As a visual artist, Gerald has exhibited his work extensively and can be seen in numerous exhibitions as well as major museum collections. In 2007, Gerald was awarded an Eiteljorg Museum Fellowship for Native American Fine Art and served as an Artist-in-Residence at the Institute of American Indian Arts in Santa Fe, New Mexico in 2015. In 2020, the Palm Springs Art Museum hosted Gerald Clarke: Falling Rock, the first major retrospective of the artist's work.
Clarke is a frequent lecturer, speaking about Native art, culture and social issues. He holds a B.A. in Art from the University of Central Arkansas and the M.A./M.F.A. degrees in Painting/Sculpture from Stephen F. Austin State University located in Nacogdoches, Texas.
Artist Statement
There are aspects of my work that have evolved over the past thirty years of art making, but some aspects have remained the same. I have consistently chosen to not have a singular approach to art making; I choose whatever media, format or action that I believe would best express the idea/emotion/concept I am exploring.
I also recognize my need for meaning. While I have a deep appreciation for the aesthetic object and truly enjoy the physicality and craft of making an art object, my ultimate goal as an artist is for my work to have a meaningful interaction with the viewer.
In hindsight, I recognize how my perspective of the viewer has evolved. Early in my career, I sought to educate the non-native viewer about contemporary Native culture. Over time, I came to two realizations regarding my work and the viewer. First, by focusing my efforts to educate the non-native viewer, I was neglecting my own tribal community. Second, the more personal and honest I am in my work, the more universal it becomes.
I was raised with a traditional understanding of the world and the importance of community. I feel a responsibility to share my perspective and the humanity we all share. I don't make Native American art. I express my Cahuilla perspective as a 21st Century citizen of the world and the passion, pain, and reverence I feel as a contemporary Cahuilla person.
Read More